I am so excited to start our 12th year of publication. Each January is a time for reflection and gratitude for all the collaborations we have done with so many artists and companies, we truly wouldn't be here if it wasn't for them and you, our awesome readers – thank you!
Veronica Winters has been an integral part of COLORED PENCIL from early on, so it's a thrill to have her ring in 2022. It has been a pleasure to watch her art evolve, and her current works featuring strong women inspires me! Veronica generously shares years of experience in her article, I know you will glean much from her.
Get more advice from Sema Martin, our Q&A columnist. She recently tackled your rapid-fire questions in a live "ask me anything" session on Facebook. We wanted to give you one last chance to pick her brain before she leaves us. By the time you are reading this, she will have a new baby to dote her attention on. We wish her all the best and hope she will share more of her wisdom in the future.
I have been waiting for a long time to have just the right artist present to you clouds and found it in Anna Strada. You will be whisked away when you view her dreamy skyscapes created with colored pencil and PanPastel. Want to create your own? PanPastel is giving away 5 sets of 5, plus tools and palette tray, that you custom create by selecting any colors you want! Sign up at www.coloredpencilmag.com/giveaways.
Next, Lana Gloschat is back with 4 ways to accelerate your artistic growth in 2022. Then, create your own female portrait when you follow John Middick's lovely tutorial.
Book of the Month How to Draw Almost Every Day by Kamo, challenges you to create a little drawing each day. As a bonus, follow the illustrations to make a book cover.
John C. Wilson approached me with this next article to honor Michael Iampieri's work. Michael created a series of drawings in the darkness of a theatre to capture live performances, that I know you find fascinating.
Finally, we have a new challenge for you. It's called "White to Bright" and the purpose is to get creative. Add color to this all-white photo and bring it to life. If you are a subscriber, you can win some of the $1,300 in prizes from Jerry's Artarama. Learn all about it at www.coloredpencilmag.com/challenge.
A few last notes. The 2022 Look Book is out and it's free! We have been using this directory regularly to refer artists each time we get an inquiry from those looking for a commission piece or art companies wanting an artist for hire. Check out the book and online gallery at www.coloredpencilmag.com/lookbook.
If you are looking for a new class you will want to join Karissa Leigh in her new Beautiful Berries Draw-Along starting January 29th. It is the most affordable instruction out there. You will learn, draw, and have fun!
Happy New Year to you all!
Sally Robertson
Editor-in-Chief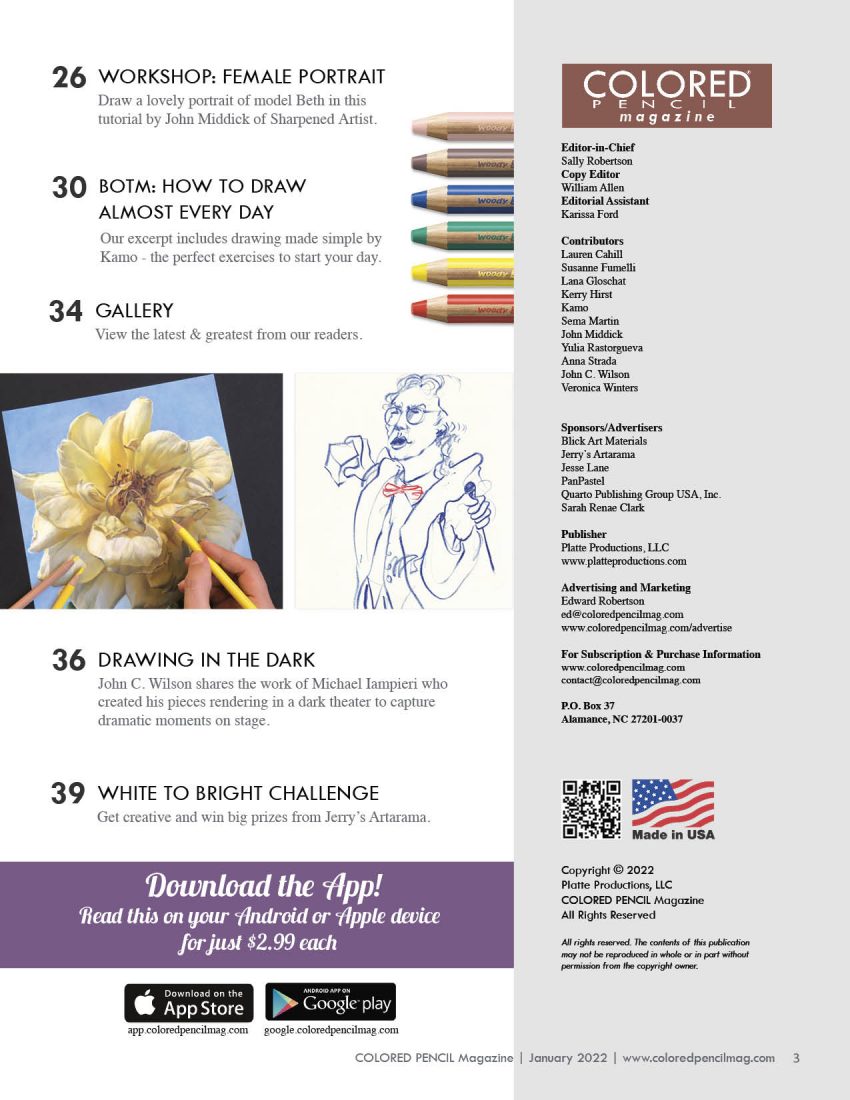 Thank you to this month's sponsors:
Blick Art Materials | Jerry's Artarama | Jesse Lane |
PanPastel  |  Quarto Publishing  |  Sara Renae Clark