COLORED PENCIL Magazine – New & In the News!
APRIL 2013
Byunzeel – www.brunzeel.nl

Canson -www.canson-infinity.com
Rembrandt – www.cansonstudio.com/en/product-families/rembrandt.html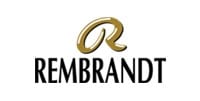 Mi-Teintes - www.cansonstudio.com/en/product-families/mi-teintes.htm
MARCH 2013
New Sponsor: Faber-Castell
Website: www.fabercastell.com


FEBRUARY 2013
New Sponsor/Advertiser: Caran D' Ache
Website: www.creativeartmaterials.com

New Advertiser: Orbital Easel
Website: www.orbitaleasel.com
Partner: Art Room AidWe hope you check out this wonderful website, created by Blick Art Supplies, and whose goal it is to help art programs with your participation. Locate a project that speaks to your heart and give an art supply, or support the group with a monetary donation. Look for more in the March issue of CPM.Website: www.dickblick.com/ara
2013 Annual Art Competition AnnouncedAgain, we have great sponsors in Prismacolor, Legion Paper, and new this year, Blick Art Materials. We have even more prizes than last year and look forward to seeing your entries! DEADLINE: September 1, 2013 – ENTER HERE
NEW APP for COLORED PENCIL Student

DOWNLOAD HERE
JANUARY 2013

NEW PUBLICATION – COLORED PENCIL Student!

We now have a quarterly digest aimed at the beginning colored pencil artist of all ages!
In our first issue we are featuring artist, Christy Grandjean and her wonderful illustrative art, Each digest is packed with ways to advance your art! Read great articles and get lessons from the best. Learn about the basics and see what's new. Get involved with our many contests, & much more!
SUBSCRIBE! 1 Year Print: 39.99 | 1 Year Digital: $19.99
(available worldwide)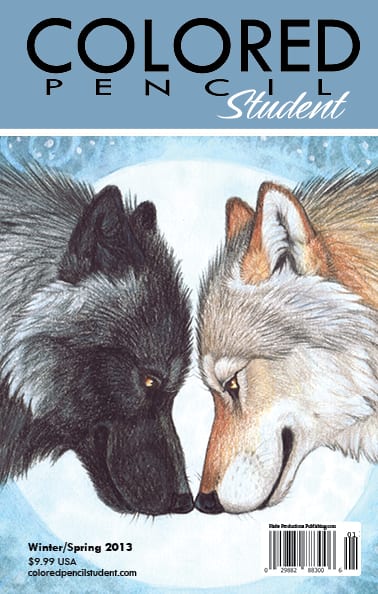 DECEMBER 2012
New Sponsor: Jerry's Artarama
Website: www.jerrysartarama.com


NOVEMBER 2012
Art of the Carolinas Trade Show
What a great experience to be able to attend this show this year! We made so many connections with all the vendors and artists that we can't wait until next year. It was a great pleasure to have a conversation with David Goldstein, the founder and CEO of Jerry's Artarama. He was kind enough to introduce us to Lindsey Voilin the instructor of the new line of videos called "Home Art Studio", in which we plan to collaborate with in 2013. So awesome to get to meet the team of UART in person, Tom & Ira are the best and I am looking forward to some projects we talked about, as well as make some plans with Cary Sullivan to work Prismacolor soon.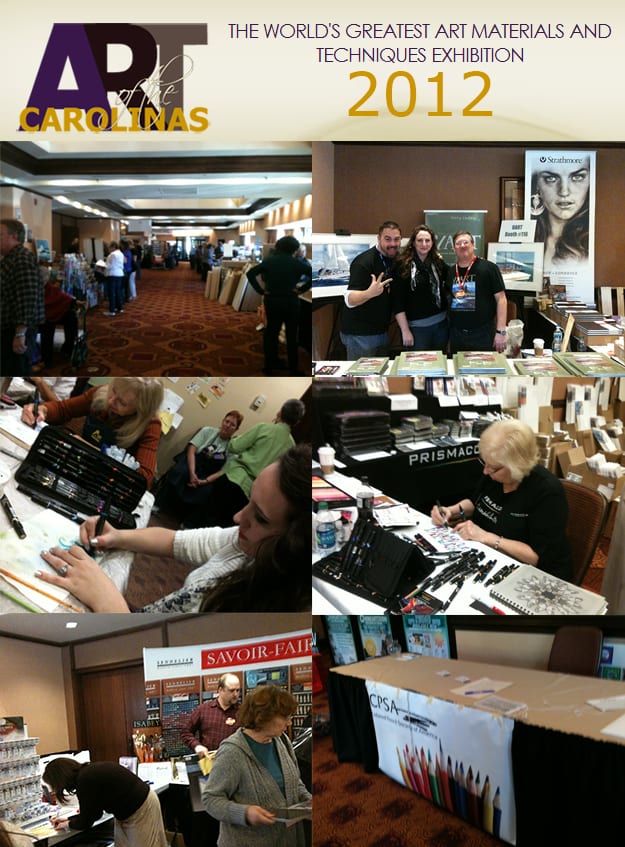 OCTOBER 2012
New iPad App in the iTunes Store
and on the Apple Newsstand
We are so excited to be able to develop our own app. This was on our list of goals but we didn't think it was possible until next year so this was quite a feat to get this out early! Now we need to make this available in the Adroid marketplace.
September 2012
New Sponsor: UART!
Website: www.uartpastelpaper.com

AUGUST 2012
First Interactive Issue!
This month we not only teamed up with Gary Greene to make this issue a great one but it is also the first interactive issue. What this means is you can now click all the great links in the digital version! click here to purchase
JULY 2012
New Sponsor: Dick Blick Art Materials
Website: www.dickblick.com


JUNE 2012
New Advertiser: Stonehenge
Website: www.legionpaper.com


MAY 2012
Featured at MagCloud
APRIL 2012
Sponsored by LYRA
Website: www.lyra.de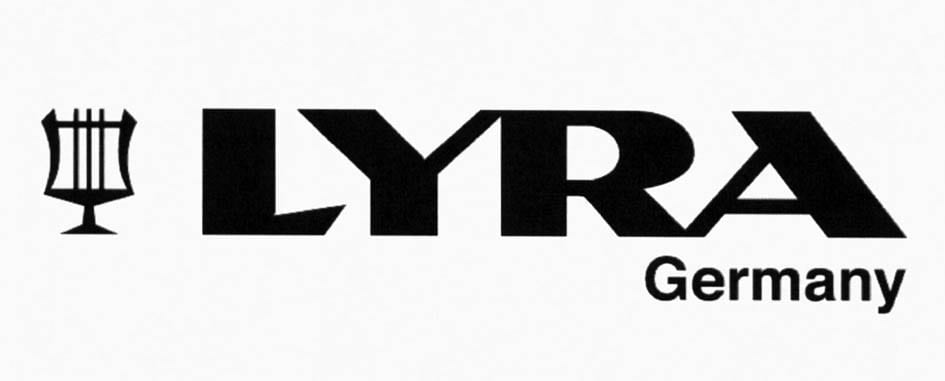 _____________________________________
Partnered with THE PENCIL PROJECT

MARCH 2012
Featured in ExpertsColumn.com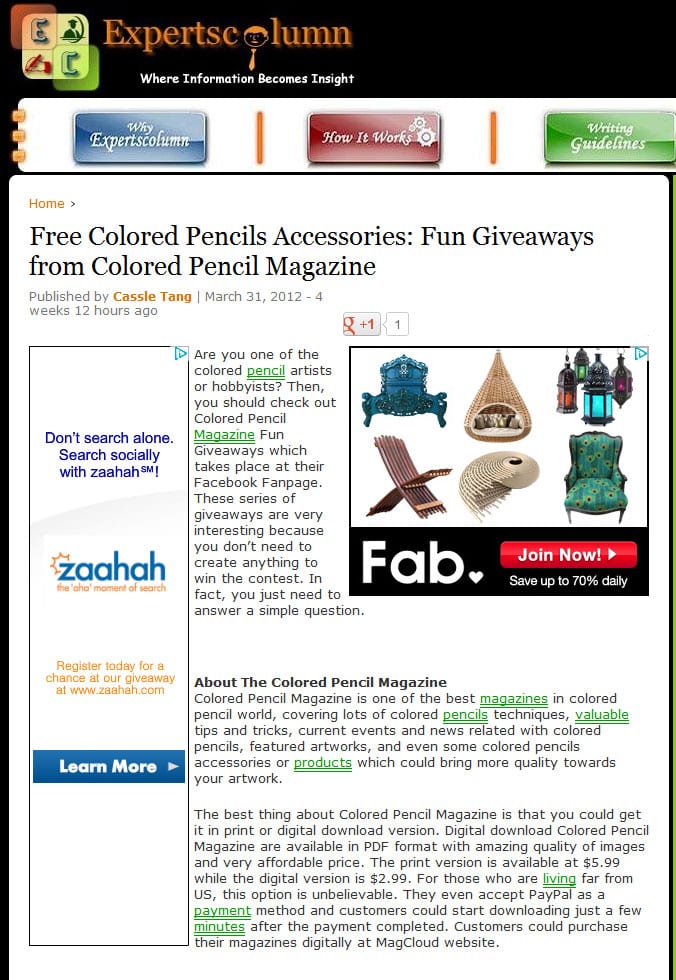 _____________________________________
Listed in ArtComps.net
FEBRUARY 2012
Sponsored by Prismacolor
Website: www.prismacolor.com
_____________________________________

JANUARY 2012
Partnered with North Light Shop
Website: www.NorthLightShop.com
DECEMBER 2011
Partnered with Alyona Nickelsen
of Brush and Pencil .com
Website: www.brushandpencil.com
We are so fortunate to have author of the bestselling, The Colored Pencil Painting Bible, Alyona Nickelsen to answer your questions in each month starting with the January 2012 issue!
Visit her amazing colored pencil painting learning center at www.brushandpencil.com